Diese Veranstaltung hat bereits stattgefunden.
Book Reading: Crafting Stories for Virtual Reality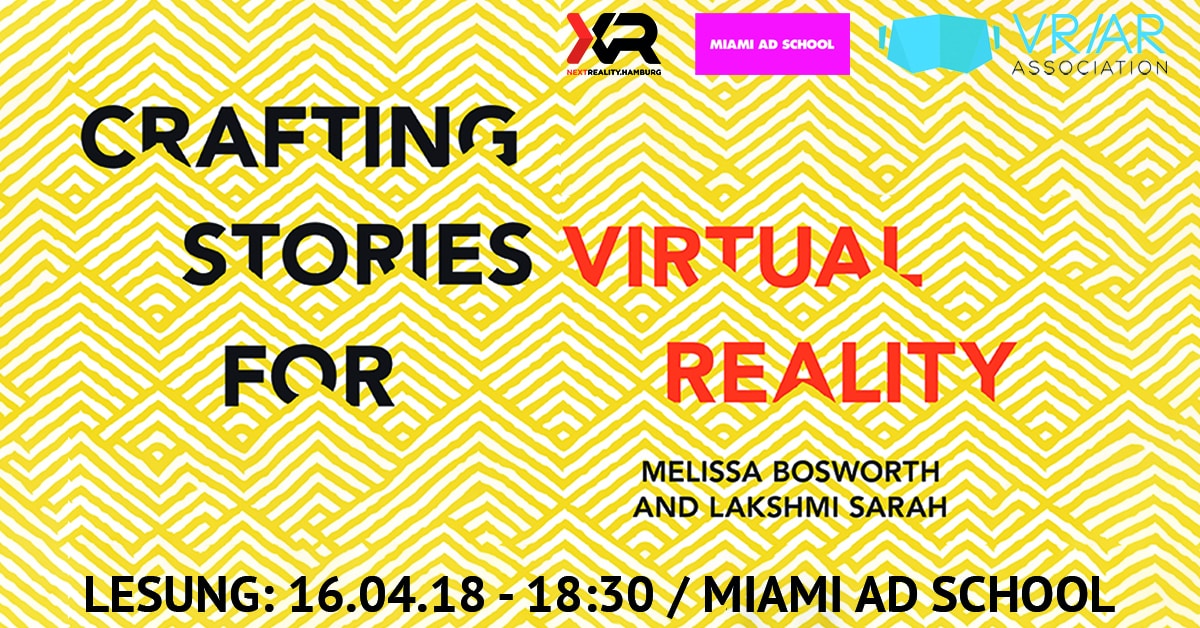 Einladung zur Lesung mit Lakshmi Sarah
nextReality.Hamburg e.V. und VR/AR Association laden zu einer aktuellen Lesung ein: Die Co-Autorin Laskshmi Sarah kommt auf ihrer Europa-Tour auch zu uns nach Hamburg und liest aus ihrem brandaktuellen Buch Crafting Stories for Virtual Reality.
Über das Buch:
Wir erleben eine Revolution im Geschichtenerzählen. Publikationen auf der ganzen Welt nutzen zunehmend immersive Storytelling – virtuelle Realität, erweiterte Reality und vermischte Realitäten – um überzeugende Geschichten zu erzählen. Ziel dieses Buches ist es, die bisherigen Erfahrungen zu einem nützlichen Leitfaden für Reporter, Filmemacher und Schriftsteller zu machen, die daran interessiert sind, Geschichten in diesem neuen Medium zu erzählen. Dieser Text untersucht bahnbrechende Arbeiten branchenübergreifend und erklärt in der Praxis, wie Geschichtenerzähler ihre eigenen kraftvollen, immersiven Erfahrungen machen können, wenn neue Medien und Plattformen entstehen.
Ort: Miami Ad School, Finkenau 35E, 2. Etage
Zeit: Dienstag, 16. April 2019 ab 18 Uhr
Ablauf: Kurze Vorstellung der Autorin mit anschließender Lesung und Fireside Chat
Über die Autorin:
Lakshmi Sarah ist Pädagogin und Journalistin mit den Schwerpunkten Einwanderung, Migration, Identität und Kunst. Sie hat Inhalte für Zeitungen, Radio und Zeitschriften von Ahmedabad, Indien bis Los Angeles, Kalifornien, produziert, darunter AJ+, KQED, Die Zeit Online und The New York Times. Mit einer Leidenschaft für experimentelle innovative Projekte war sie Stipendiatin des Oculus Launch Pad und Mitglied des VR Creators Lab von YouTube in Los Angeles. Seit der Gründung von Tiny World Productions, einem innovativen, immersiven Journalismus-Studio, hat sie für die Online News Association, SXSW und BinderCon präsentiert. Sie hat einen Lehrplan für Journalisten in den Bereichen Video und immersive Storytelling in den USA, Indien und auf der ganzen Welt entwickelt. Als Dozentin an der UC Berkeley Graduate School of Journalism und am Berkeley's Advanced Media Institute gab sie Multimedia- und VR-Workshops. Ihr Unterricht und ihre Berichterstattung brachten sie als Fulbright Fellow nach Hamburg und als Arthur F. Burns Fellow bei Die Zeit Online nach Berlin. Sie ist Absolventin des Pitzer College und der UC Berkeley Graduate School of Journalism und teilt ihre Zeit zwischen Berkeley, Berlin und Südindien.
——- English Version ——
AN EVENING WITH LAKSHMI SARAH
nextReality.Hamburg e.V. and the VR/AR Association cordial invite you to a book reading of Crafting Stories for Virtual Reality at the Miami Ad School.
About the book:
We are witnessing a revolution in storytelling. Publications all over the world are increasingly using immersive storytelling—virtual reality, augmented reality and mixed reality—to tell compelling stories. The aim of this book is to distill the lessons learned thus far into a useful guide for reporters, filmmakers and writers interested in telling stories in this emerging medium. Examining ground-breaking work across industries, this text explains, in practical terms, how storytellers can create their own powerful immersive experiences as new media and platforms emerge.
About the Author:
Lakshmi Sarah is an educator and journalist with a focus on immigration, migration, identity and the arts. She has produced content for newspapers, radio and magazines from Ahmedabad, India to Los Angeles, California including AJ+, KQED, Die Zeit Online and The New York Times. With a passion for experimental innovative projects, she was an Oculus Launch Pad grant recipient and member of YouTube's VR Creators Lab in Los Angeles. She has presented for the Online News Association, SXSW and BinderCon since co-founding Tiny World Productions, an innovative immersive journalism studio. She has developed curriculum for journalists in video and immersive storytelling skills in the U.S., India and around the world. As a lecturer at the UC Berkeley Graduate School of Journalism and Berkeley's Advanced Media Institute, she has taught multimedia and VR workshops. Her teaching and reporting brought her to Hamburg, Germany as a Fulbright Fellow and Berlin as a Arthur F. Burns Fellow with Die Zeit Online. She is a graduate of Pitzer College and the UC Berkeley Graduate School of Journalism and divides her time between Berkeley, Berlin and southern India.