Diese Veranstaltung hat bereits stattgefunden.
Start Over: An XRVienna + Women in Immersive Tech EU Meetup
24. August, 2021, 19:00

–

21:00

kostenlos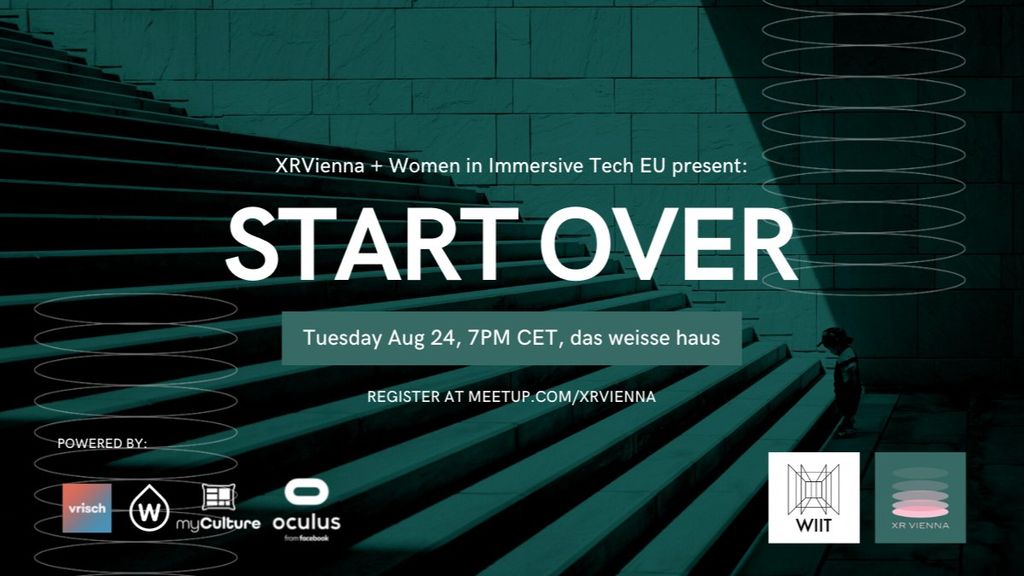 As restrictions begin to lift and we slowly recover the feeling of being closer to one another, we invite you to XRVienna's first IRL Meetup of 2021! Can we get an ouuuu yeaaaah?
This event will bring us back together to exchange knowledge, inspire one another and bring back much-needed flesh and blood community bonding as only we know how. XR Trooper style!
Talks and experiences
– Neuro-Traces (Flavia Mazzanti & Manuel Bonell / Immerea)
– How XR tech can save forests (Ramona Schmidt & Nina Schönemann / Haus der Wildnis)
– Funding opportunities for XR projects (Alena Schmuck & Christina Alge / Wirtschaftsagentur)
Tech trials
– Thanks to our community partner Laval Virtual we will have the latest HP Reverb G2 and the HP Reverb Omnisept Edition available for community testing during this event and also a bit before and later (with previous booking).
Art exhibit
– Through our event partner myCulture, we will also enjoy a very special visual treat: the poetic lithographs of visual artist Abhishek Verma whose art is visiting us all the way from lovely India!
Partners
One huge thanks to our venue partner das weisse haus for lending us their space for this special moment, and to vrisch and Oculus VR for powering it!
We're committed to the health and safety of all of our community members. Therefore, places are limited and we kindly ask you to stick to the 3G rule to attend this event.
We're beyond excited to see you again. RSVP soon to secure your spot!
Ähnliche Veranstaltungen