Diese Veranstaltung hat bereits stattgefunden.
MENA Founders Stories: Augmented/Virtual Reality
13. März, 2020, 18:00

–

21:00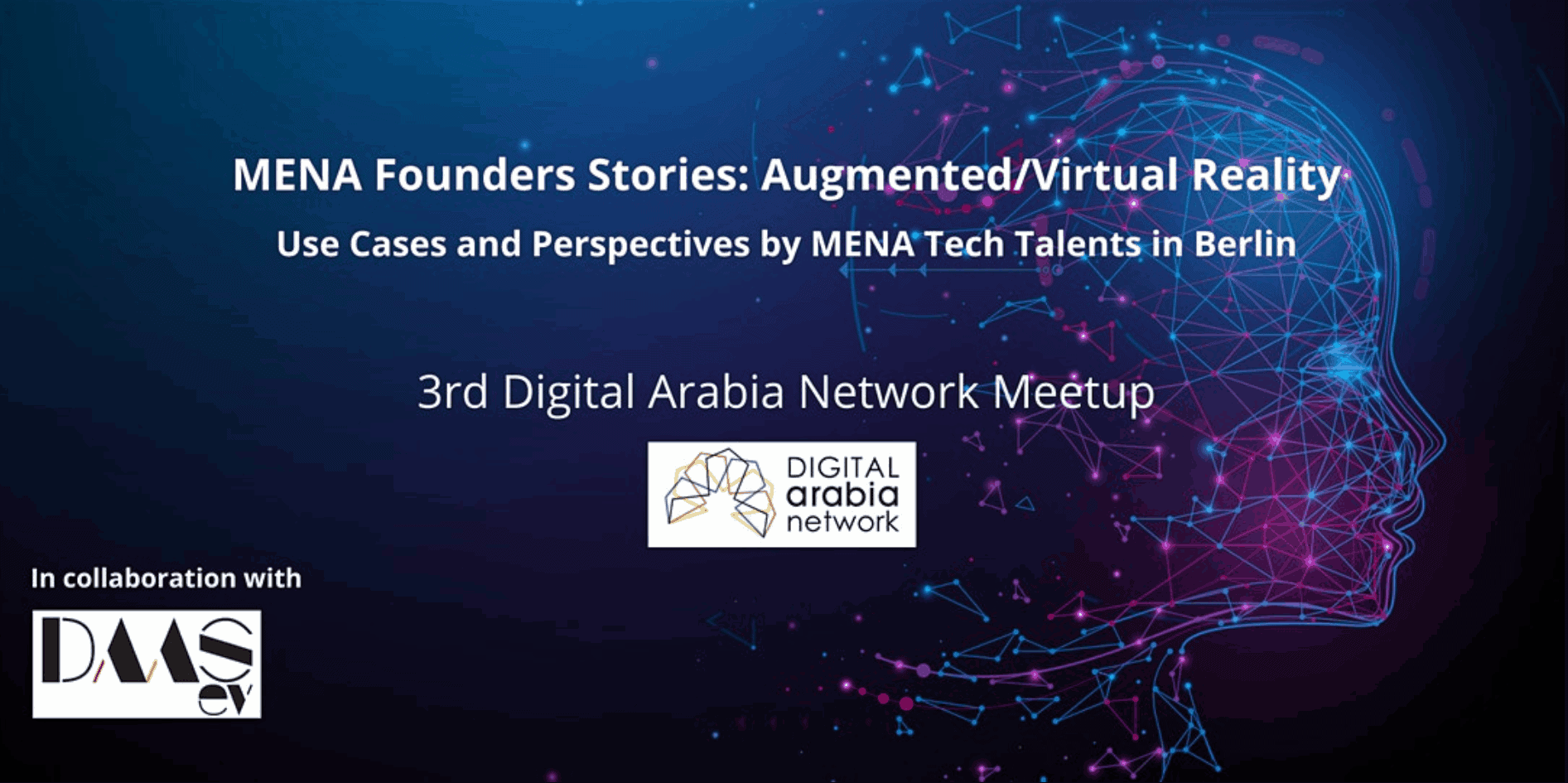 MENA Founders Stories: Augmented/Virtual Reality – Use Cases and Perspectives by MENA Tech Talents in Berlin
On the reality spectrum, Augmented Reality (AR) stands at one end while Virtual Reality (VR) stands at the other. With the power of computer vision and machine learning, these immersive technologies were born in the fifties of last century by computer scientists trying to create a version of the world that was unreal, but in a good way. Since then AR and VR technologies have evolved dramatically to reach new capabilities of user impressiveness and more is yet to come.
Digital Arabia Network is pleased to invite you to its third meetup event which will be hosted by Delievery Hero SE and held in cooperation with the Deutsch-Algerischer Verein für Akademiker und Studierender (DAAS) to explore together with our speakers the (new) different use cases of AR/VR technolgy accross the economic and cultural spheres to see whether the hype of these technologies is over or still has more to offer. Our speakers come from the MENA Tech Talent pool living here in Berlin. They will tell us stories of how AR/VR are making their way into our daily lives. They will tell us their own stories of how they are using AR and VR to create a difference. We look forward to meeting you all there.
Schedule:
06:00 p.m. Registration and Snack
06:30 p.m. Welcome Words by Dr. Lina Yassin (Lead Agile Coach | SE Delievery Hero), Bassant Helmi (Co-Chair of DAN | CEO of Global Project Partners e.V.) & Fatima Giuliano-Arnaout (Steering Committee Member of DAN | Consultant at 4CGroup AG)
06:40 p.m. – 7:20 p.m. "MENA Founders Stories: Augmented/Virtual Reality" moderated by Ismail Chaib (Board Member of DAAS and COO TESOBE | Open Bank Project)
Input talk of the speakers on different AR/VR Use Cases
Rania Reda – AR expert | Founder & CEO of Augmania
Zakaria Jaiathe – Co-Founder and CEO at Xibit
Youssouf Ismail Cherifi – Research Engineer at Institute de la Vision, INSERM, CNRS, Sorbonne University, Chaire Silversight
Lena Gehlhaar – Project Manager Innovation │ VR/AR at Berlin Partner for Business & Technology GmbH
7:20 p.m. – 8:30 p.m. Moderated Discussion and Q&A
08:30 p.m. – 09:00 p.m. Networking
Ähnliche Veranstaltungen