Diese Veranstaltung hat bereits stattgefunden.
Gamification Europe 2019
9. Dezember, 2019, 9:00

–

10. Dezember, 2019, 18:00

360€ - 660€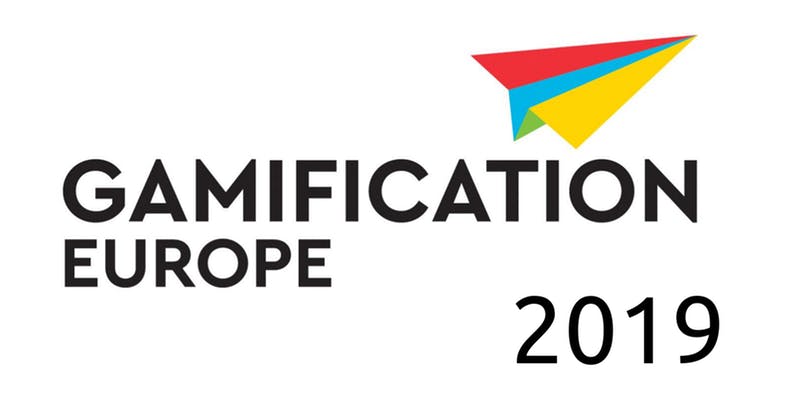 About Gamification Europe
Harness the power of games. Gamification Europe is the 2 day gamification conference that gives you all the necessary tools to use gamification in your organisation. So far we've announced the location, the venue, the theme and nothing else, this is your call to adventure…
Why 'A Call to Adventure'?
The third edition of Gamification Europe will take place in Berlin, Germany on the 9th-10th of December. A Call to Adventure is an answer to the unknown. What is the theme of this edition? Future Fun: Where is Gamification Headed? Who are the speakers? We are discovering them as we speak…
These tickets are sold shrouded in mystery, but a promise of fun, insightful talks, workshops and more… you will find that these tickets are not to be underestimated.
The Theme – Future Fun: Where is Gamification Headed?
We will have talks, workshops and experiences that help us explore this theme. Particularly, you can expect to hear about:
New use cases for gamification
How emerging technologies will affect and improve gamification, specifically:
* Augmented Reality (AR)
* Artificial Intelligence (AI)
* Internet of Things (IoT)
* Virtual Reality (VR)
How science-based research in gamification can be made to work in practice
How the gamification market is evolving
Attend our gamification conference and continue your journey to gamification mastery
Answer the call to adventure, and you will receive all the benefits below. Attending this conference will:
Be able to attend a pre-conference introductory gamification workshop
Allow you to ask the speakers questions after their talk (YouTube comments aren't the same and you know it)
Boost you into presence of industry leaders who are building the future (e.g. hear it here first)
Help you to reimagine what gamification is and isn't, through best practice, case studies and insight from industry leaders
Expose you to new ideas (You go to conferences to learn something new right?)
Upgrade your understanding of gamification through new perspectives
Expose you to other industry leaders and innovators. (This is more than just a convergence of great minds, this is a chance to find new partners, solve your business problems and experience dozens of 'aha' moments.)
Put you at the epicenter of gamification knowledge
Book your spot at The Mercure!
If you are going to be going to the conference, perhaps you'd like to book your stay in the hotel we are hosting the event at?
We have some guaranteed rooms reserved for you at The Hotel Mercure MOA at €121 per night (including breakfast). You can visit this website to enquire about availability: https://hotel-moa-berlin.de/abrufkontingent-gamification_07-12-14-12-19/
Contact
Speak to Kira, 'kira@gamification-europe.com' if you would like more information about #GEU19.
Thank you
Pete, Kira and Vasilis
(The Organising Team)
Consider following Gamification Europe on social for our latest updates
Twitter: https://twitter.com/Gamification_EU
YouTube: https://www.youtube.com/c/GamificationEurope
Facebook: https://www.facebook.com/gamificationeurope
LinkedIn: https://www.linkedin.com/company/gamificationeurope
Instagram: https://www.instagram.com/gamificationeurope/
Ähnliche Veranstaltungen