Diese Veranstaltung hat bereits stattgefunden.
EUCL meets WIIT
17. November, 2021, 19:30

–

20:30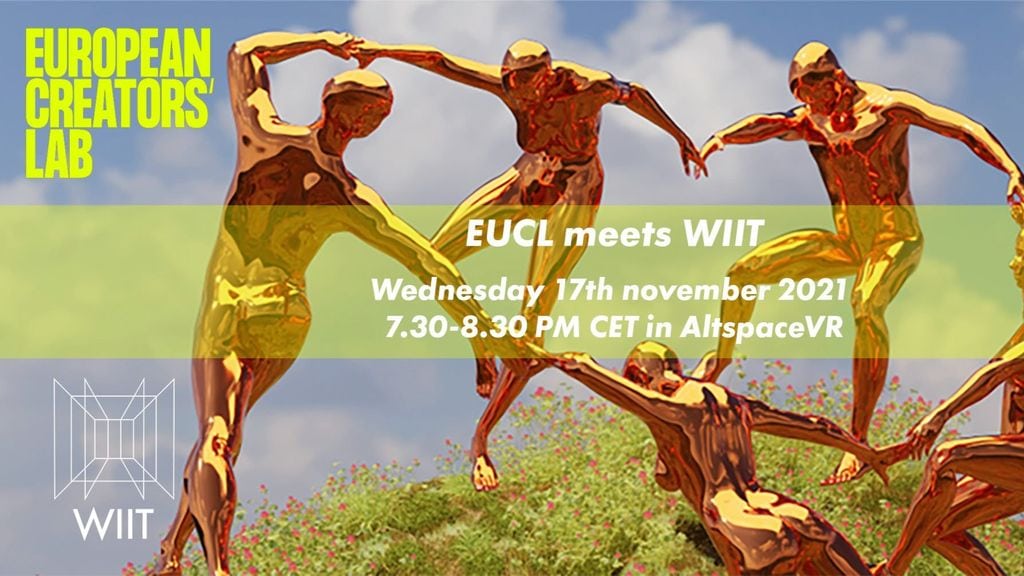 The European Creators' Lab is hosting the next Women in Immersive Technologies Europe meetup on November, 17th, 7.30 – 8.30 pm CET in AltspaceVR. The EUROPAN CREATORS' LAB is hosting the next @WiiT_Europe meetup on November, 17th, 7.30 – 8.30 pm CET in ALTSPACEVR. Join us and meet our speakers LIZ ROSENTHAL and INGRID KOPP together with EUCL participants and mentors – and WIIT members!
Please RVSP in AltspaceVR using the event link already now (before attending the event)!
https://account.altvr.com/events/1867567052777062739
The EUROPEAN CREATORS' LAB has been nurturing and supporting creatives in their knowledge of immersive storytelling content creation with innovative technologies and future media since 2017. Every year, creatives are learning from each other and from international experts and mentors, award winners and outstanding artists.
The EUCL will take place this year in an online edition from November 15 to 19. 43 participants from 23 nations and 15 mentors from all over the world will meet again for five days of intensive exchange and collaborative idea development.
"We are especially happy to host the meetup of WOMEN IN IMMERSIVE TECH EUROPE (WIIT) on Wednesday, November 17 in our EUCL world in AltspaceVR. EUCL mentors LIZ ROSENTHAL and INGRID KOPP will talk about diversity, ecosystems, and being a woman in immersive technologies.", Astrid Kahmke of EUCL.
Ähnliche Veranstaltungen