Diese Veranstaltung hat bereits stattgefunden.
CONNECT! X ARS ELECRONICA | A NEW DIGITAL DEAL
10. September, 2021, 18:00

–

19:00

kostenlos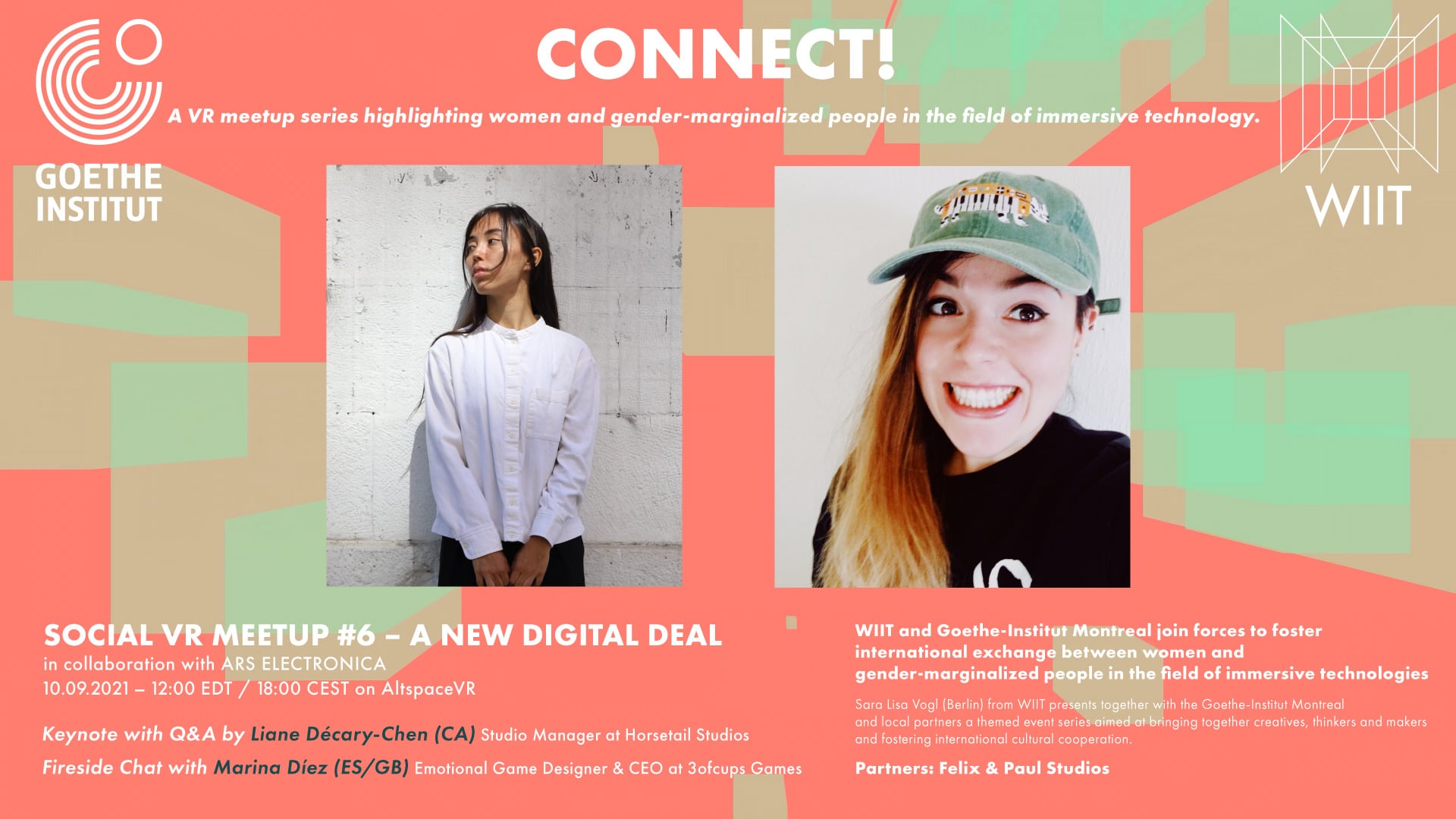 A VR meetup series in the field of immersive technology.
Meetup on the Social VR platform AltspaceVR
on September 10, 2021
at 12:00 EDT / 18:00 CEST.
The network meetings aim to highlight and virtually connect women and gender-marginalized people from Europe and North-America working in the creative industries and around immersive technologies to create new international connections and foster potential cooperation.
These Meetups are planned as a series of events with a different focus for each event.
This meeting is presented in collaboration with Ars Electronica – Festival for digital Art:
MEETUP #6: A NEW DIGITAL DEAL
This meetup will take ARS ELECTRONICA's festival's motto "A new digital deal" as a starting point to focus on subversive-creative strategies in the digital realm to empower marginalised communities with tools of creative computation and gaming.
Keynote with Q&A by Liane Décary-Chen (CA) Studio Manager at Horsetail Studios
Fireside Chat with Marina Díez (ES/GB) Emotional Game Designer & CEO at 3ofcups Games
Speakers:
Liane Décary-Chen (CA)
Liane Décary-Chen is a designer, creative coder, and community organizer operating within the fields of digital and interactive media. A common thread which runs through all her projects is the desire to equip people with tools that will allow them to take control over their bodies, lives, and stories. She has worked in numerous fields including wearable computing, games, interactive filmmaking, and tech education. She has been working with TAG Lab since 2016 and has collaborated with Vice Quebec, Studio XX, Cambridge Radical Tech Series, festival Image+Nation, ELEKTRA, and Shanghai Design Week.
Marina Díez Pereiro (GB/ES)
Marina Díez (she/her) is a Spanish award-winning game designer based in London, UK. She's the CEO and Creative Director at Three of Cups Games, a games studio based in London. Besides, she is a Lead Game Designer at Un Je Ne Sais Quoi Studios, currently working on the game Dordogne. Marina also works as a consultant on game design and work ethics for other companies around the world.
Participation via VR headset, Windows PC and Mac OSX (beta version) in 2D mode and live stream via Zoom.
Please note:
New users will have to first download the app and then make an account inside the AltspaceVR application. This works on all platforms like PC, Mac OSX, Oculus Quest, etc.
ARS ELECTRONICA
Ars Electronica is the most important international fetsival of digital art, presenting trends and long-term developments in a future-oriented manner in the form of artistic works, discussion forums and scientific support.
This year, Ars Electronica 2021 will take place under the motto A NEW DIGITAL DEAL from 8 to 12 September 2021. For the second time since 1979, it will be a hybrid event comprising exhibitions, concerts, talks, conferences, workshops and guided tours in Linz, Austria, and over 80 other locations around the globe.
More information:
https://ars.electronica.art/news/en/
ABOUT CONNECT!
Connect! is a VR meetup series highlighting and connecting women and gender-marginalized people in the field of immersive technology, organized by the Goethe-Institut Montréal in collaboration with Women in Immersive Tech Europe (WIIT), initiated by Sara Lisa Vogl. More about the project.
Ähnliche Veranstaltungen