Diese Veranstaltung hat bereits stattgefunden.
4th AUREA Award & Conference
21. Januar

–

23. Januar

74€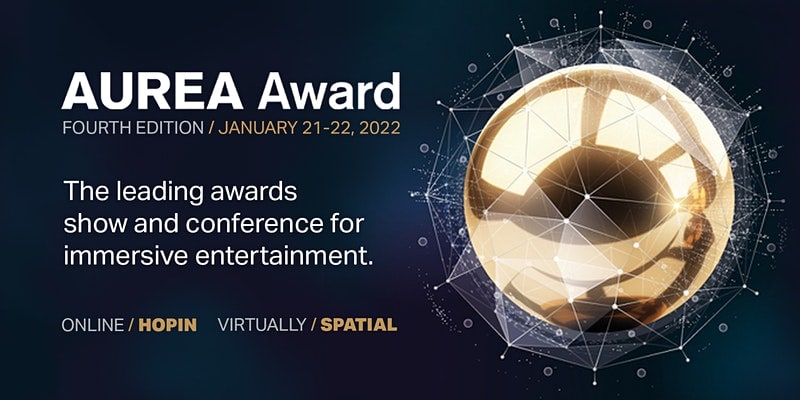 AUREA is the leading European conference in VR, AR, XR, MR, and immersive entertainment. It's a global community of leaders at the intersection of immersive technology, a forum for creators to build the products of tomorrow, and a space for for innovators to interact, engage, and learn. We strive to highlight the latest trends, celebrate excellence, and kickstart collaboration. Building on the success of our digital event last year, the 4th annual AUREA Award will combine physical, virtual, and digital formats. The event is presented by Europa-Park, whose industry-leading expertise offers attendees a chance to experience the latest entertainment.
At the AUREA Award conference, creativity and innovation take center stage.
The event showcases the most exciting products, features hands-on workshops, and includes talks from industry leaders. Attendees have the unique opportunity to experience cutting-edge technologies before anyone else.
It is the vision of Michael Mack, CEO of Europa-Park and a champion for innovation in the amusement park, media, and entertainment industries. Europa-Park, which produces the event, is one of the world's leading amusement parks and a pioneer in immersive tech. Since launching in 2018, AUREA has dazzled attendees and executives alike, fostering an international community of VR, AR, XR, and MR enthusiasts.
The fourth annual AUREA Award conference will take place on January 21st-22nd, it combines physical, virtual, and digital formats for the first time. Over the course of the two days program, attendees will have the chance to:
Hear keynotes from the foremost thought-leaders in the industry on the ground
Participate in digital panels tackling relevant topics in immersive entertainment
Collaborate with other attendees and experts in virtual breakout sessions
Make new connections during impromptu chat roulette conversations
Unwind at networking parties and meet fellow creators
Enjoy performances from exciting live acts
Ähnliche Veranstaltungen