Diese Veranstaltung hat bereits stattgefunden.
AWE Nite Berlin #5: the latest AR projects
4. Dezember, 2019, 19:00

–

21:00

kostenlos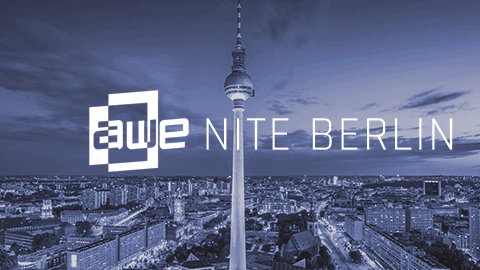 AWE Nites presents another series of exceptional companies showing their latest AR tech!
We meet at Mozilla, a global non-profit dedicated to making the Web better.
Lineup
1. Maren Demant, CEO of Invisible Room Gmbh & Co. KG, will present how AR can treat symptoms of Parkinson's.
Invisible Room is a creative hub, consultancy and production studio for XR.
www.invisibleroom.com
2. Karsten Weil, founder of UFOMAMMOOT will talk about "AR in marketing – a history of miserable failure"
UFOMAMMOOT is an independent digital agency based in Berlin, creating unique brand experiences by combining innovative concepts with technology [for clients like adidas, Netflix or eBay.]
www.ufomammoot.de
3. Assaf Reeb and Matt Jones, Co-Founders IVA – Immersive Virtual Apparel
Will present recent developments and opportunities for Games, VR and AR platforms to incorporate digital fashion.
IVA is a Berlin and London based startup connecting fashion and games with standardized content and simplified licensing.
www.ivapparel.co
4. Kevin Prösel, Managing Director of Saint Elmo's Berlin
will deliver a speech along with the team's Web XR Developer, Anastasiia Miroshnichenko, on how Saint Elmo's uses multi-reality storytelling and state-of-the-art XR-technologies to create a unique brand and product experiences.
Saint Elmo's is a Berlin-based advertising agency, whose focus is on experiential content.
https://www.saint-elmos.com
About the event:
When:
4th of December 2019, 7pm.
Where:
Mozilla Berlin (Maps)
The community space is then on the 3rd floor directly to the right when coming out of the elevator. Once inside it's the first door (it has a sign on the door which says "Community Space"). In case people arrive more than 10 minutes later they can access through the 4th floor reception and the receptionist will bring them to the Community Space.
Tickets
> Free <
The duration of each talk is 15 minutes.
After the talks, we will enjoy networking.
About the host:
Mozilla is a global, nonprofit organisation dedicated to making the Web better. They emphasise principle over profit and believe that the Web is a shared public resource to be cared for, not a commodity to be sold. Mozilla works with a worldwide community to create open source products like Mozilla Firefox, and to innovate for the benefit of the individual and the betterment of the Web.
The Community Space in the Mozilla Berlin office hosts events by like-minded communities. If you want to learn about Mozilla, join the bi-weekly Mozilla Open Night in the Community Space!
https://mozilla-berlin.github.io/
See you Wednesday!
AWE Nite Berlin team
Ähnliche Veranstaltungen